How To Raise Interest Rates – Without Raising Interest Rates
As Jim Flaherty announced the new changes to mortgage rules that will go into effect on July 9th, media are clamouring for opinion and insight into what the changes will mean for the housing market and the economy. Many are of the opinion that the market will see a massive slow-down, buyers will be priced completely out of the homes they are looking to buy and it will be difficult to get the financing they need. There are some key points that Canadians need to focus on and avert their attention away from the media headlines for a few minutes. Here is my take on what effect the changes will have on the housing market as I sat down with BNN earlier this morning.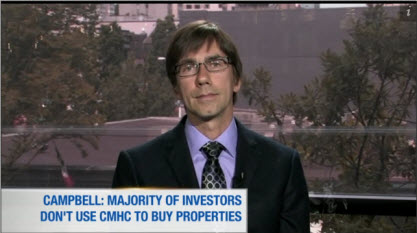 Don Campbell on BNN [CLICK TO WATCH]
The critical point that Canadians need to pay attention to is that these changes are only applicable to CMHC insured mortgages and non-bank lenders who use CMHC rules on conventional mortgages. That being said, the vast majority of real estate INVESTORS are not taking out CMHC insured mortgages (Surprisingly, according to CAAMP and CMHC, only 11% of Canadian mortgages were insured by CMHC in 2011) so most will be unaffected by the changes. Those changes will mainly affect people looking to enter the market for the first time or those currently in the market looking to upgrade.
The shift in amortization is equivalent to a 0.9% increase in interest rates, which is a fantastic way to encourage the market to slow without having to raise actual interest rates – the result of a physical rate increase would be an increase in the value of our dollar which would result in a slow-down of the rest of the economy (not ideal). Buyers will ultimately be paying themselves instead of the bank, which is a positive result for everyone looking to enter the market for their first home or a new home.
Interest rates will likely stay on hold for a longer period, at least until mid 2013 as the effect of an increased rate would be overall slowing of the economy. The most noticeable impact will be the value of home that buyers are going to be able to afford. A person with a $100,00 per year income will now mean they are able to qualify for $80,000 less for their mortgage. This will mean Canadians are going to be thinking a little harder about where they want to buy and may not be able to purchase that half a million dollar property.
The majority of Canadians won't understand that there are still options for 30+ year amortizations on any mortgage not insured by the CMHC, so paying attention to that fact will be crucial. The market will be affected psychologically in the short term as it will slow down while people come to understand the changes, but the shorter amortizations will force them to take a breath before they enter the market. Growth in housing values will soften – this will be felt mostly in areas where job growth is stagnant, and will have a limited affect on Alberta, northeastern BC and Halifax.
For those people looking to avoid the changes that are trying to buy their first home, there is not much time to do so as the changes go into effect on July 9th and most banks will adopt them immediately. We may see a small spike in purchases in the next few weeks, but as long as Canadians pay attention to the facts, the very short term won't see much change before the July 9th deadline.
As I mentioned above, there are opportunities for buyers to get 30+ year amortizations, but that will mean a larger down payment and mortgages not insured by CMHC. Conventional buyers won't be affected by the changes and the result will be a slowing of the market in the longer term. As housing starts trend down (as many new homes are purchased using CMHC mortgages), people may be inclined to buy more resale housing at lower prices if they want to stay with a lower down payment.
We may also experience some potential unintended consequences to these changes. Housing start numbers in 2013 will see some slowing as people focus on more affordable resale products and less on new construction homes. We may also see a decrease in retail sales as people are tucking away more money for their down payment. We will also see less refinancing to purchase consumer goods as saving money will become much more prevalent for those people who want to buy or upgrade.
First-time home buyers and buyers looking to upgrade current homes will be affected here, and the advice I could give is to take that deep breath before you jump into the market. Look at the value of home that you can realistically afford and understand that this will now be the norm. You may not be able to purchase that home costing $450,000, but you'll be able to safely enter the market and won't be at risk of over-leveraging yourself. As we move back to rules equivalent of those in 2002, buyers can feel more at ease that they are not buying out of their price range because the rules will now force them to do so.